Territory
Hot steel forging in Canavese
From "Il Canavese occidentale – terra d'acciaio" (Western Canavese – a steel land)
.. Metal working in Western Canavese, unaltered for many centuries, underwent great transformations since XIX century.
Raw materials
At the beginning metal supply was granted by a sort of autharchical system, based on local mines or in not far areas on mountains; among them those in Traversella and Brosso in the Valchiusella valley, di Ceresole, in the Val Soana and in Cogne in the Aosta Valley.
High mining costs in the area, with the development of technology and transport by sea, and rail and road haulage, led, in the years after Second World War, to a deep transformation in the sector of raw material suppliers. Billets, the steel bars of different sizes used nowadays as production material, that are heated and pressed, come mainly from extracontinental countries, while semi-finished products are produced in steelworks specialized in the transformation and treatment of raw materials mined in the best European ore bodies (Italy, Sweden, etc.).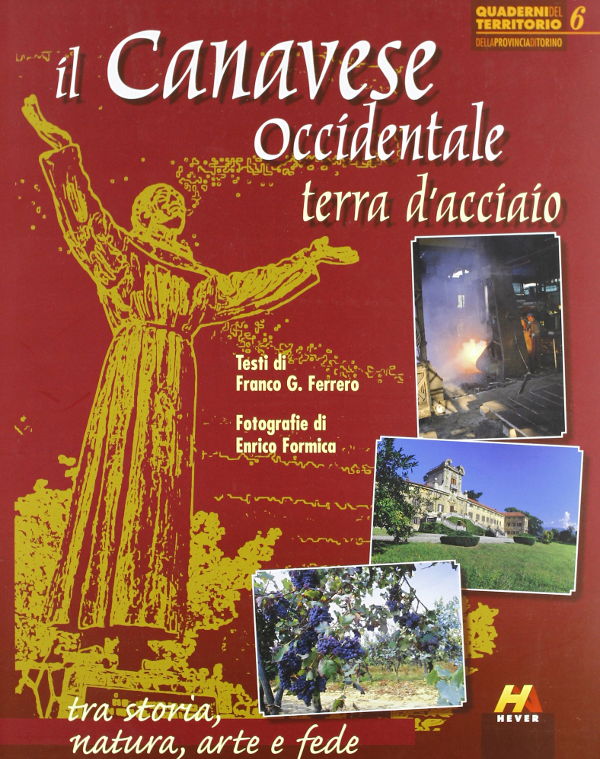 Tilt hammers
Key production principles at the basis of hot forging haven't been changing during years, and always have as main requirement a high amount of energy to heat and to work metals. The very beginning of hot forging with the use of machines dates back to the introduction of "tilt hammers" still used in few characteristic handcraft smithies in Canavese. The typical action of smiths, used to hammer white-hot metals on the anvil, passed on the machine.
These simple devices, moved by water energy (this is why old firms were built along alpine streams) thanks to mill wheels and penstocks, were composed by mechanisms ending in a long wooden lever equipped with a metal ram at the end. The modest impact power of tilt hammers let forge small items; craftsmen, while using long wire tongs to hold incandescent pieces of metal, displayed flair and skills of strength and sense of timing.
Strap hammers
Due to production, dimension and quality issues, rudimentary tilt hammers were substituted, at the end of XIX century by powerful metal percussion devices that worked thanks to the free fall of huge masses: the strap hammers. These machines were moved by a device composed of pulleys and robust cotton straps that made the ram to lift up to a specific height and then released and let drop for force of gravity. Strap hammers marked the beginning of the press forging age and, as a matter of fact, the evolution from handcrafted to industrial production. They were often produced in the same tool rooms and were operated by highly skilled personnel, specialized in the intermediate forging of the item to be drop-forged.
Full exploitation of the deforming potential of strap hammers was reached with the progressive substitution of coal furnaces with liquid fuel (mineral oil) furnaces, able to heat items of increasing dimensions. In the end, the electric power supply led to autonomy from water streams and caused the firms to move to the plain, where they could have better opportunities of communication and product sale.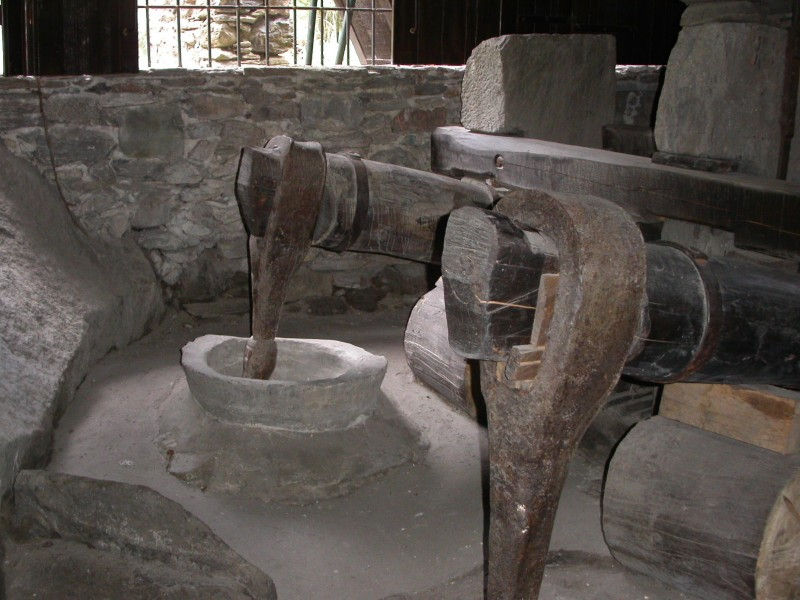 Tilt hammer in the copper smithy in Ronco Canavese
Controlled hammers
An evolution of strap hammers is represented by double air hammers. The original devices composed of pulleys and straps were replaced by hydraulic lifting systems with compressed air, able to enhance both the deformation power (with bigger rams) and the productivity. The increasing need of productivity and precision, led, in the end, to the introduction of presses (either hydraulic or fly presses), whose main characteristic is the "controlled" impact strength, no more based on free fall dropping of a weight but on the thrust guaranteed by hydraulic liquid under pression or by a rocker arm moved by an electric motor.
The evolution of forging machines also affected the hammers of last generation, with oil driven working and electronic control of impact parameters. In case of high production levels the forging process is carried out by a steel mould reproducing in negative the final strength of the item, divided in two parts, respectively mounted on the anvil and on the driven hammer.
Presses differ from hammers mainly on tooling costs. The impossibility to amplify the deformation power through repeated strokes and, in the end, a greater operational simplicity that requires less skilled personnel.
Metal heating
The change of energy resources has led to a great evolution of the technologies. Technologies used for metal working in Western Canavese. Passing from the use of wood, coal or natural gas to the the use of eddy current induced in metals by electromagnetic fields. Heating process with combustion furnaces required a long thermal rise cycle (commonly said Caoda in Canavese) to obtain uniform temperature in billets to avoid the risk of cracks in moulded items.
The heating cycle required a good experience of the furnaceman (forner, in local dialect) and the use of different furnaces to increase productivity levels. With the diffusion of a greater availability of electrical energy, together with the development of great power units (activated in recent cogenerations systems) electromagnetic induction furnaces were introduced, based on Joule effect (electrical energy converted into heat) obtained by induction of currents into metals by means of electromagnetic fields.
Distinctive feature of such furnaces are:
. high electrical energy consumption,
. reduced impact on local environment,
. uniform heating of billets,
. extraordinary heating rate (from which the opportunity to operate continuous working of the press line)
. reduced size of the sliding cavity for billets.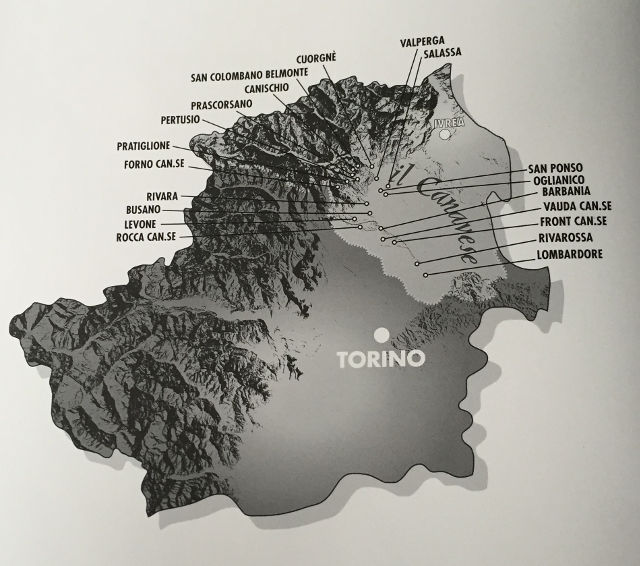 Canavese map: "the little Ruhr"
Moulds
First moulds for hot forging were produced by highly skilled craftsmen in the shops of the firms. They give shape to valuable blocks of hard metal simply using files, saws and other rough tools.
The outcome of such long and laborious process was often surprising: its accuracy was more than adequate for the following moulding processes.
After the diffusion of electrical energy, tooling units were equipped with tool machines with high working performances that enabled the operator to reduce labour and time for mould production.
Latest technological innovations
Microprocessors use in the technology of numerical control has shifted the toolmakers skills from machine tools to powerful work stations equipped with computers and CAD/CAM software.
Today most of the press-forging businesses have in-house technical design departments where moulds are designed and elaborated with CAD/CAM software, and have pressing and trimming in-house processes carried on by CNC machineries.
Among others technological innovation, worth to be noted is the use of robots and tridimensional inspection and, as for mould production, electrical discharge machining instruments (die-sink EDM and wire-cut EDM), that use electrical discharge to fret materials.
Moulding process
The characteristic productive process of hot forging is divided in steps as following:
hot or cold shearing of raw material (directly supplied by steelworks), depending on the sizes of billets;
heating of sheared items in furnaces (induction, gas and fuel oil furnaces);
moulding of items, which may take place directly or be preceded by preforming operations. In the case of drop-forging, the preforming operation is essential, and it is defined "striking";
trimming, made with small presses, to take away useless flashes from the processed item;
finishing: forged items pass through "sandblasting machines" to be cleaned and surface imperfection are removed by casts of abrasive sands of different kind and size.
Others processes related to hot pressing are carried on in the plants:
production of moulds, made by EDM systems and machine tools;
heat treatment obtained through metal heating;
handling of materials inside and outside the buildings.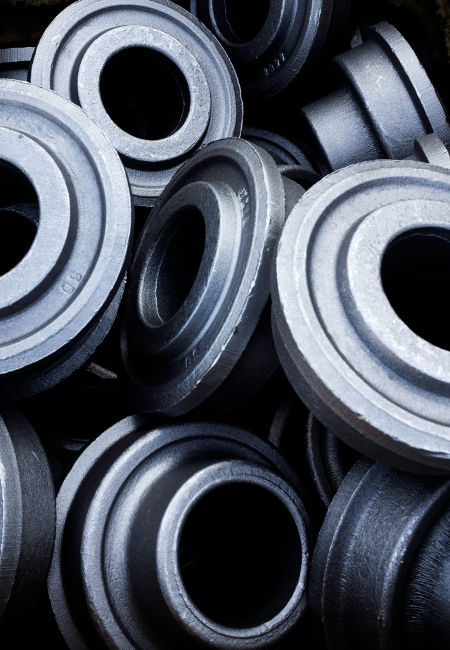 Music for Presses
One of the characteristic typical of hot forging is the rhythmic thumping of hammers and presses. That has arisen, during last years, issues about noise pollution, soundproofing and relocation of plants, which historically arose close to houses. In 2006 a unique artistic experiment was made by Enzo Umbaca, who decided to transpose the identity, or "ound soul" of Forno Canavese and compone a sort of shared "anthem", giving collective harmony to the dissonance of the factory.
The artist, involving villagers and businesses, recorded the noises of hot forging processes and then gave to composers Cesare Malfatti and Igor Sciavolino the transcription and to Philharmonic Society and to Monte Soglio Choir of Forno Canavese the interpretation in a live concert.
Present metal working in Western Canavese situation
The remarkable concentration of companies today operating in hot forging and machining makes Western Canavese one of the national poles in this sector (others are in Lecco area and in Emilia-Romagna) and places it at the second place in the European ranking, after Ruhr, in Germany. For this reason this area gained the title of "little Ruhr". …